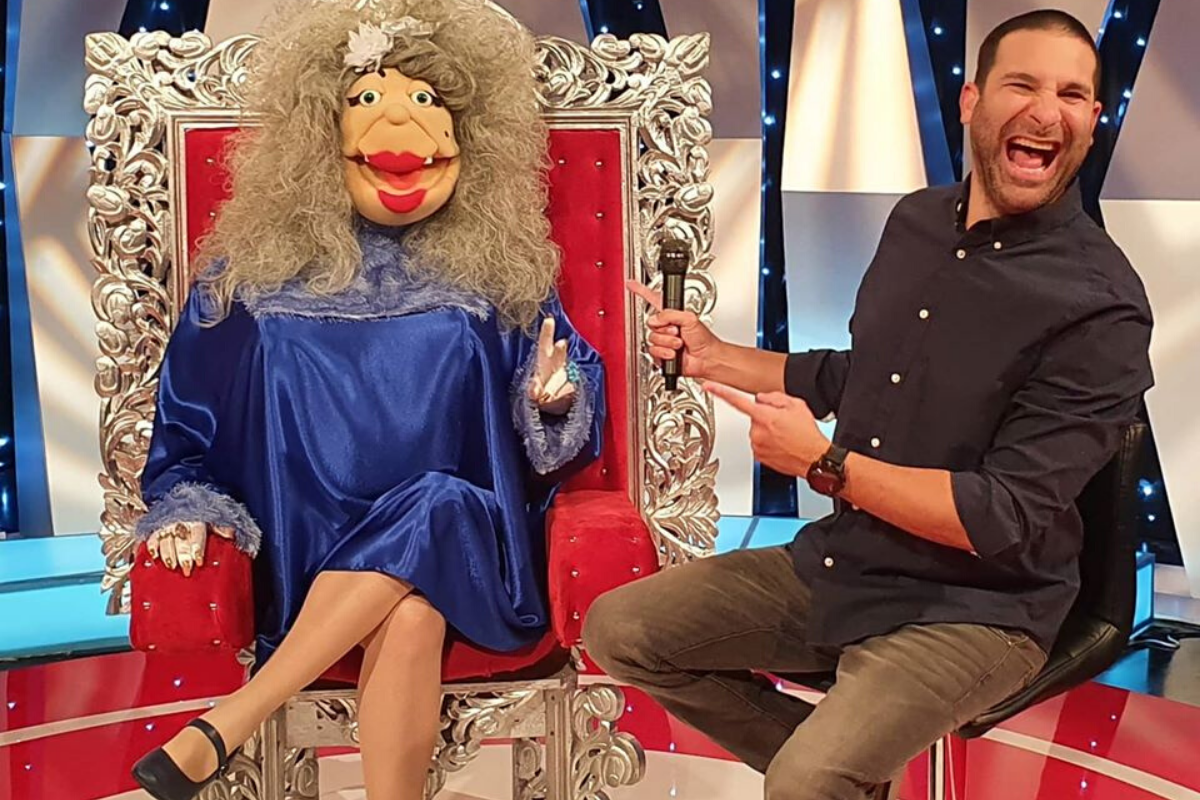 Once again (as if we needed even more examples), Kobbo Santarrosa and his La Comay puppet crossed yet another line that has led to resounding condemnation by artists such as Bad Bunny, politicians from all ideological stripes and essentially all of Puerto Rican social media.
This time around, Santarrosa, hiding like he always does behind the veil of a puppet —the very same character who has had a long history of racist, homophobic and yellow journalism tactics— went on his Mega TV show Friday to sexualize the underage daughter of Movimiento Victoria Ciudadana (MVC) gubernatorial candidate Alexandra Lúgaro, who is seen is a photo with Manuel Natal, Lúgaró's companion and the MVC candidate for the San Juan mayor.
In a clip that has gone viral on Puerto Rican social media across all platforms, Santarrosa used a photo of Natal and Alexandra Lúgaro's daughter Valentina… well, we don't really want to explain because what it all boils down to is this—Santarrosa sunk to even lower levels, as if he could sink any lower. In a typical yellow journalism play by Santarrosa, the puppet claimed that it wasn't she who shared the photo online, but the mother of Valentina, as if, again, why are we trying to explain this? (The image was previously shared by Santarrosa's show.)
The shameful clip (we still have no words for it) was in response to words from Lúgaro, who had a Thursday night debate appearance on Mega TV, but took the time to let the network know that it continues to broadcast a show that perpetuates hate and prejudice to defame and to normalize violence. Lúgaro also said that the show had been attacking his daughter in the past.
Lugaro le zumbó fuego a La Comay en su propio canal y en TV nacional ? | Analice, Discuta y Fundamente pic.twitter.com/fprNy6XaMn

— Puestos Pa'l Problema (@ElPodcastPPP) October 9, 2020
As for overall reaction? There is general consensus in Puerto Rico that Santarrosa has once again gone too far, evoking calls for the show to get pulled off the air, just like it was in 2013. On Saturday, feminist group Colectiva Feminista en Construcción issued a strongly worded statement saying that Santarrosa's actions perpetuate a culture of violence against girls and women.
On Saturday night, Bad Bunny condemned Santarrosa's latest, telling Spanish Broadcasting System (SBS) —which owns Mega TV— that he will not allow for any of his music to be played on any SBS platform. (SBS owns TV and radio stations.)
.@sanbenito with a big slam against SBS, the network that broadcasts Kobbo and La Comay after Kobbo crossed the line (yet again) for the bs yellow journalism the show continues to do with no accountability. Now Bad Bunny is telling SBS to f off. https://t.co/3K57atbK5t

— Julio Ricardo Varela (@julito77) October 11, 2020
Two years ago, Bad Bunny had used one of La Comay's old SuperXClusivo clips to promote one of his concerts. Many in Puerto Rico thought back then that Bad Bunny was endorsing Santarrosa to return to Puerto Rican television.
A new La Comay show premiered on Mega TV in 2019.
In another Saturday tweet, Bad Bunny insisted that he was not responsible for bringing La Comay back on air.
PRIMERO QUIERO DEJAR CLARO!! YO NO TRAJE LA COMAY DE VUELTA!! YO NO PRODUZCO SU PROGRAMA!! YO PAGUÉ PARA UTILIZAR LA MUÑECA SIN AÑOS DE USO PARA UN ANUNCIO DE 60 SEGUNDOS!! SIN SABER NI IMAGINAR QUE ESTABA POR REGRESAR!! A MI NO ME ASOCIEN CON LA BASURA QUE DIGA EN SU PROGRAMA!!

— ? (@sanbenito) October 11, 2020
"First, I want to be clear, I didn't bring La Comay back!" Bad Bunny tweeted. "I don't produce the show! I paid to use the puppet, after it being inactive for years, for a 60-second commercial! I didn't know that it would return! Don't associate me with the garbage said on that program!"
On Sunday, Latino Rebels reached out to SBS for comment about what Bad Bunny tweeted and how Santarrosa was sexualizing a minor. It has yet to receive a response from the network.
In August, after the FCC received a letter from Rep. Nydia Velázquez about La Comay, a story about the letter said the following:
["FCC chair Ajit] Pai said there's nothing the agency could do, citing the protection of the First Amendment and Section 326 of the Communications Act. He said broadcasters have 'discretion to determine what content to air on their stations, even if that programming could be objectionable to some viewers,' with the exception of obscene, indecent, or profane programming of course. Pai said the FCC is 'generally prohibited from censoring content or dictating to licensees what the stations can or cannot air.'"
Velázquez's original FCC letter was written after La Comay shared disparaging xenophobic remarks against a Puerto Rican candidate's South Asian roots.
In a Sunday tweet, Velázquez called for the FCC to act after Friday's broadcast.
As I have said before the TV program" La Comay" is misogynistic, homophobic, and xenophobic and now has launched a despicable attack on a young girl. This program should be pulled from national television and I once again urge @FCC to act.

— Rep. Nydia Velazquez (@NydiaVelazquez) October 11, 2020
UPDATE: On Sunday night, Lúgaro and Natal went on Facebook to address what Santarrosa did. Both of them broke down and cried, saying that Santarrosa's acts were illegal and that he should suffer the consequences of the law.